Want more dental implant patients?
Jumpstart Your Dental Implant Practice with High-Paying Dental Implant Patients Every Month
And Get Your First 30 Days Free
What is Dental Implant Machine?
Our Dental Implant Machine system uses the dental implant funnel to take your prospects by the hand and walks them through each phase of the sales process. Then hands them off to your staff at the right time so you get more dental implant starts.
Our system is crushing other methods in terms of ROI… including regular Funnels, Pay-Per-Click, SEO, Commercials, Radio and the like. Our dental implant funnel along with the training and personalized coaching we provide each client, will skyrocket your dental implant income to new levels in record time.
Our Results Speak For Themselves
Here Are Just A Few Of Our "Two-Comma Club™" Award Members…
They've Added Over $1,000,000 In Dental Implant Production With Our Program.
Dr. Richard J. Salvatore from Salvatore Dental earned more than $1,000,000 following our system and is continually closing cases almost every week.
We visited Dr. Delrose in North River Dental to give his Two-Comma Club™ Award for closing more than $1,000,000 worth of implant cases with our system.
Dr. Xhoana Gjelaj from Trinity Dental Arts got more than $1,000,000 worth of implant starts with our program and is continually earning big ROI.
Will You Be Our Next "Two-Comma Club™" Member?
A Worry-Free Experience.
That's what you can expect with the Dental Implant Machine Program
Proprietary Lead Capture System
We generate high quality leads along with a process that makes it simple as can be for you to follow up and get leads in for a consult.
1 on 1 Personalized Coaching
Get a dedicated success coach who works to maximize your success with individualized training, role-playing, and troubleshooting for you and your team.
Clinic Sales Systems Training
Learn how to nurture, book, and close the implant leads we generate for you.
Exclusive Territories
One doctor per territory so you're not competing with any other clients for dental implant patients.
Contract Free Services
You have no long-term commitment… Ever! Our services are always month to month.
30 Day Free Trial
Try us for free for your first 30 days. Many clients start receiving leads before we even get paid!
Hear what Brooke from Dr. Ignatowicz's office loves about Dental Implant Machine
(and how they closed over $170,000 in treatment in 45 days!)
Dr. G – From New Jersey – Posted in his Facebook group that he had 4 arches in the pipeline worth over $30,000 each with total spend of $3,000.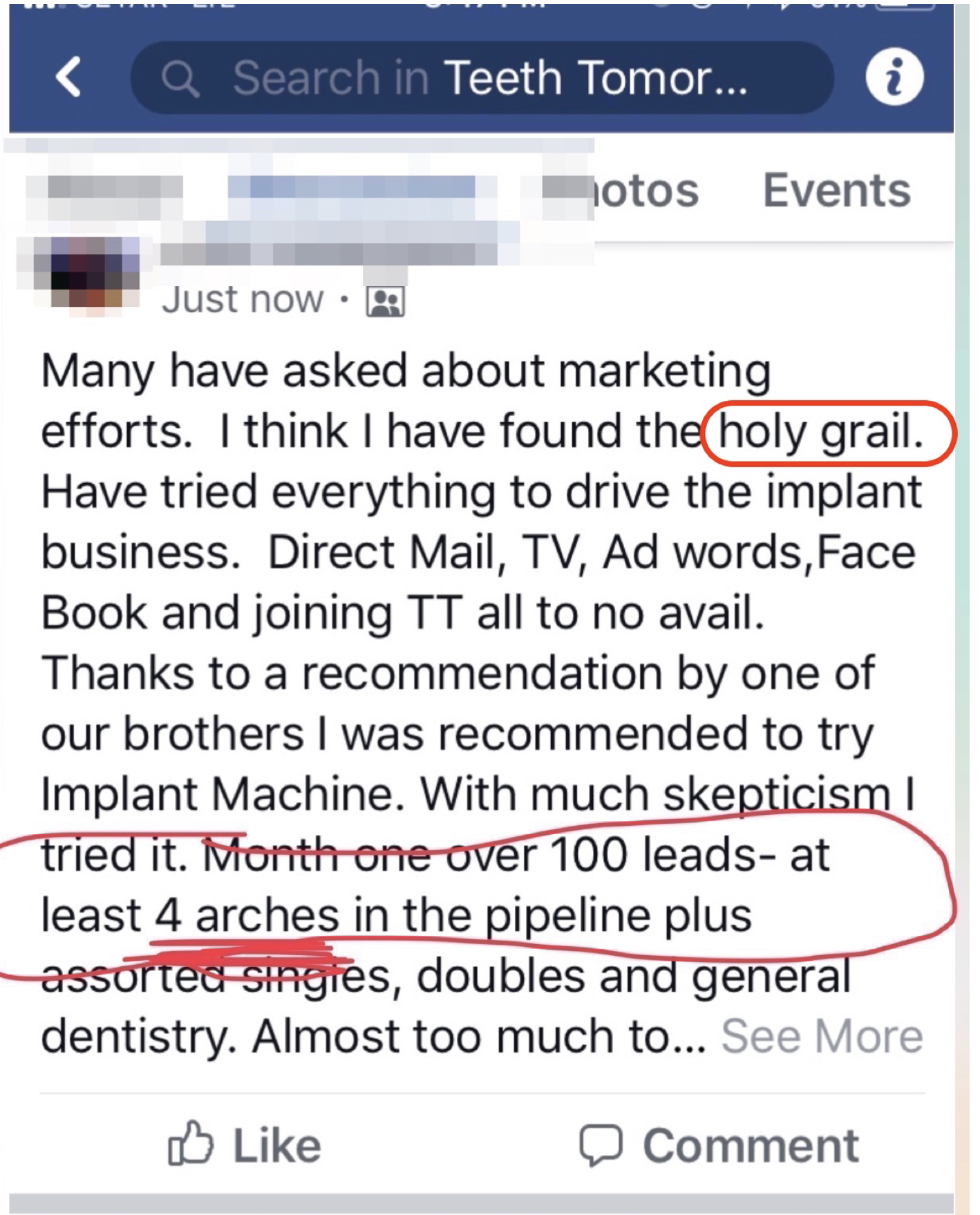 This Clinic Invested $3,000
They received $120,000.
Not too shabby.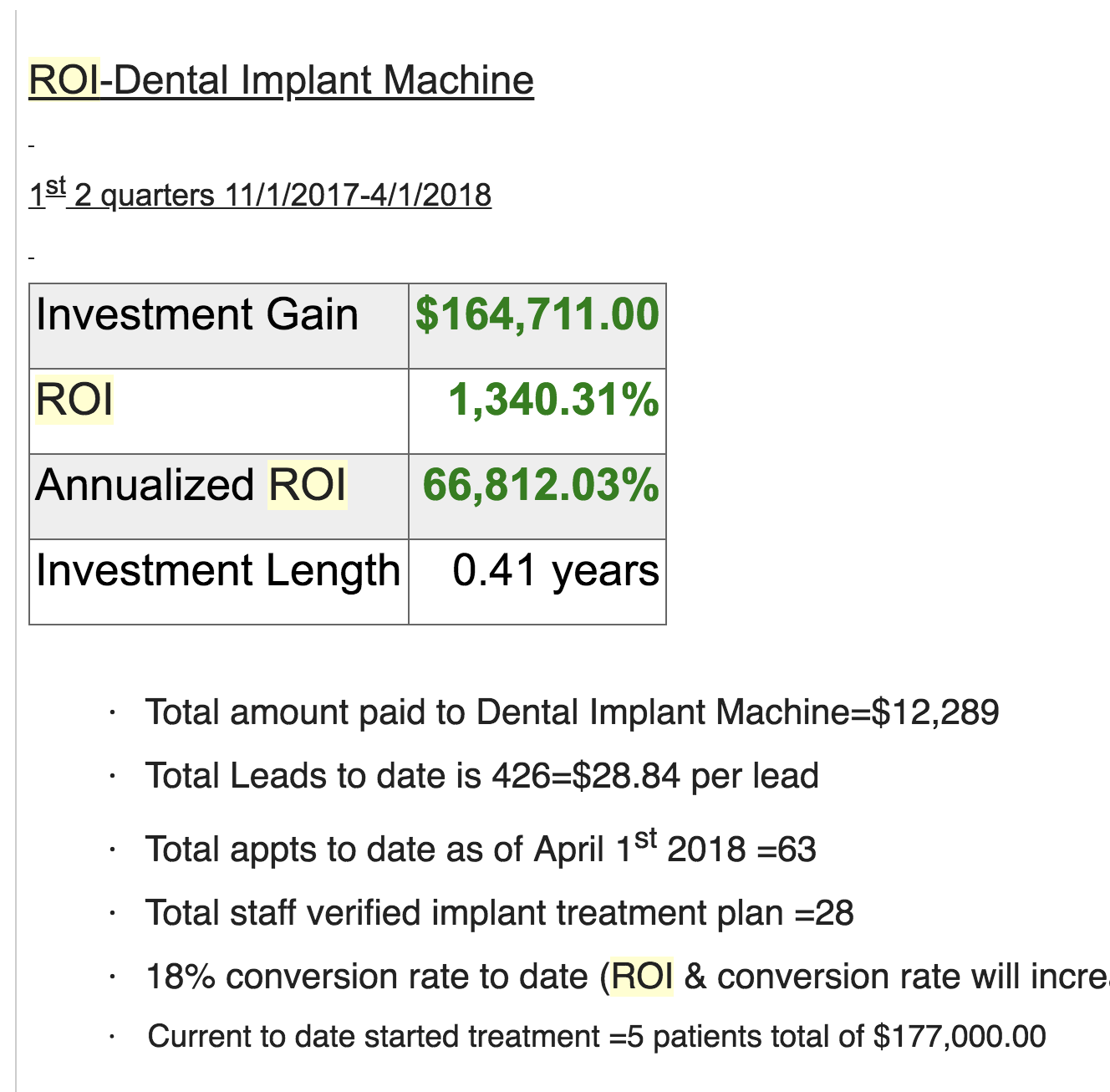 WE WANT THIS TO BE YOU!
…ARE YOU READY?
Schedule a time to chat with us and learn how we can help you shed the worry and start thriving!